Today, I painted no figures. What did happen, though, was that this evening, my regular gaming partner, A, came over with his wife, J, and together with my partner S, we played two games of
Munchkin
and one game of
Zombie Dice!
.
The first game -
Star Munchkin
- was very fast and frenetic. Lots of backstabbing went on and much laughter was had, particularly with the stackable laser weapons. S won, leaving us all languishing in the dust with the Redshirts and Captain Quirk.
Star Munchkin in full swing. Note my Bananafofanaserbaser (+9!). This got bigger until I lost all my items to a trap.
Then we played Zombie Dice!, which was brilliant. It was fast, fun, and simple enough to pick up in seconds. Actually, S, J and myself played it, as A was preparing a huge game of Munchkin! He has every expansion going, or so it seems, and the resulting game took a very long time, but was the most fun I have had for a long time. We struggled against each other, monsters, and ourselves, as well as the dungeons we were in, and eventually my Half-Elf-Half-Orc Thief won. Because he was part Orc. I celebrated!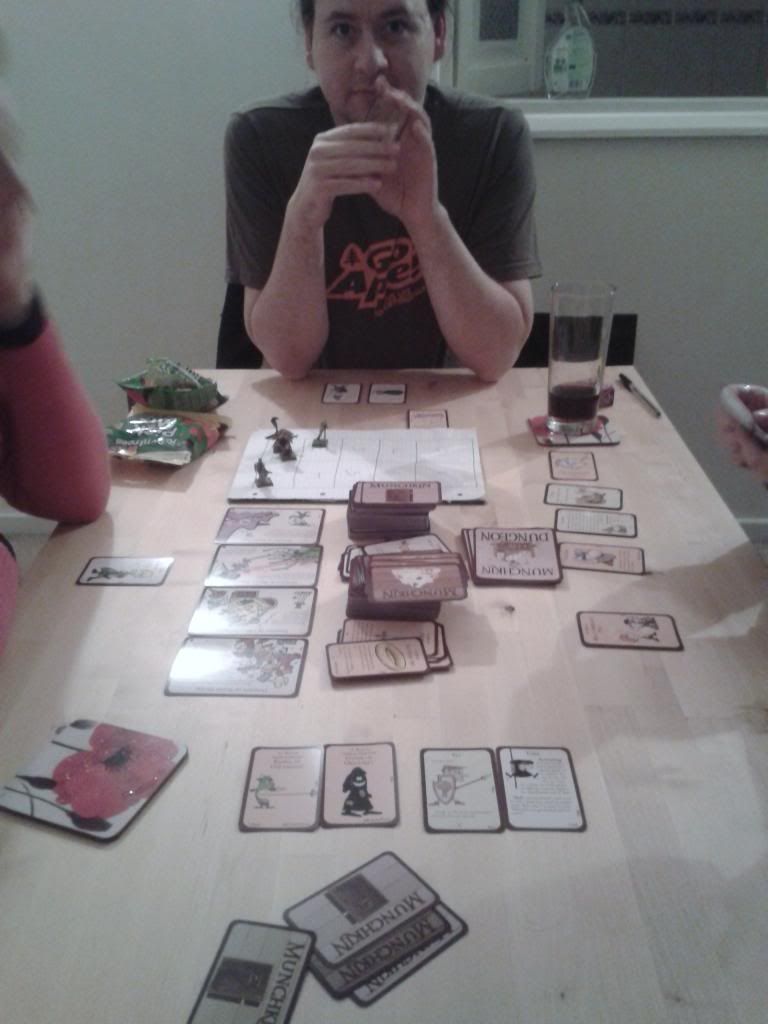 Munchkin begins. My Elf Thief begins his/her accumulation of gear...
At this stage we had all had our characters' sex changed. So my Elf was now a female Elf and could wear the pointy bra I'd picked up...
An extra class and more gear! Including a hat I couldn't wear...
Now I was back to being a man, but had become a Half-Orc Elf. This would prove game-winning...
As you can see! I am the naked blonde chick at Level 10, S is the Skaven Grey Seer on Level 9, A the Dwarf Slayer and J the High Elf Noble, both at Level 8. I won by killing a Level 7 Cockroach and defeating it by more than 10 levels, thus gaining two levels and going from 8 to 10 AND WINNING ahahahahaaaa!
Munchkin
comes from
Steve Jackson Games
and is illustrated (mostly) by John Kovalic of
Dork Tower
fame.