For a long time I have heard much about the semi-fabled 'Macro' function on digital cameras, enabling close-up detailed photographs to be taken of small things. Like toy soldiers. Until yesterday, I didn't think I had a Macro function on my current imaging device (a mobile phone). Then my partner, S, told me that it did, in fact, have that... so after kicking myself, I enabled it, and took some photos of some things.
First of all, I dug out my decade-old 15mm Vietnam collection. When I was a teenager, my then wargaming partner (even more of a butterfly than I am) decided we should game Vietnam in 15mm. So, thanks to Mr Pig of
Peter Pig
, and the now sadly deceased Mike Ruffle's utterly amazing website Grunt! Online (since renamed Eleven-Bravo and now no longer online), I got stuck in. Fairly quickly I had amassed a Vietnamese village, a full-strength reinforced US Infantry Company, a UH-1D slick, an M-48, a platoon's worth of M113s, and some Brown Water Navy assets. Even more amazingly, for me, the whole thing got painted! Meanwhile, my friend painted (but didn't base) the NVA platoon that... I... bought... for... him.
Yes.
So, anyway, they did see one game, but for over ten years they have sat, neglected and alone, in a shoebox and I have decided - now that Flames of War are doing the American War, as the Vietnamese know it - to sell it on. So have some photos of Vietnamese villagers and US hardware:
A US Mechanised Platoon's vehicles - an M113 'ACAV' for the platoon commander's track, and then four basic M113s supported by an M-48 tank. Available here on my eBay shop for £25!

LVTP 'AMTRAC' 'Big Momma' in both overland and waterline versions, with a PBR - immortalised in 'Apocalypse Now'. Available here on my eBay shop for £20!

A Vietnamese village - complete with paddy fields, hooches, VC porters, a tiger, pigs, and two Buddhist monks. Available soon from my eBay shop.
And then I rummaged around in my 25mm EuroFed police v rioters tray and discovered that I had five of Ground Zero Game's New Swabian League troopers which I have been using for, well, the European Federation Defence Force in my Tomorrow's War project. I put them side by side to see how I could integrate them into the short platoon I already have (and experiment further with Macro):

Then I thought it'd be fun to see how my painting style had changed in the rough decade or so since I painted up the urban EF troopers, by comparing two of the same figure side by side: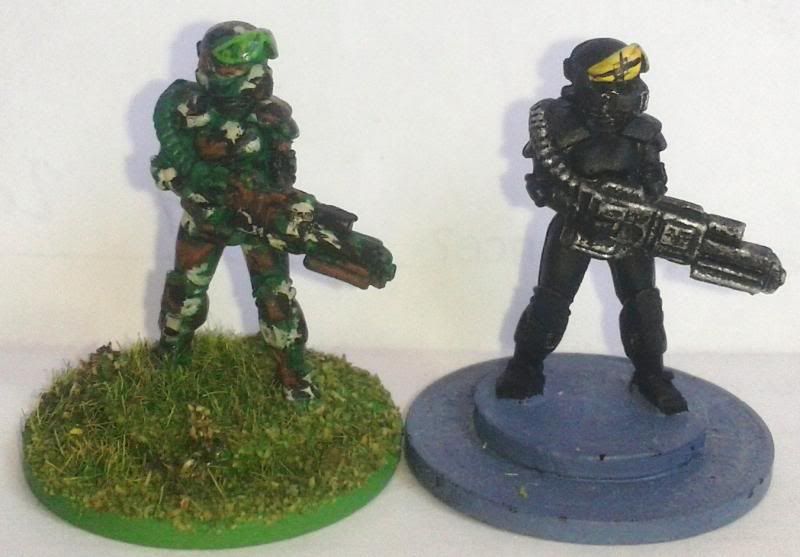 I prefer the figure on the left - although the scheme on the right makes a great one for urban civil pacification/suppression units!
And, finally, although this probably doesn't count towards my Painting Points, this is what I've been working on of late: